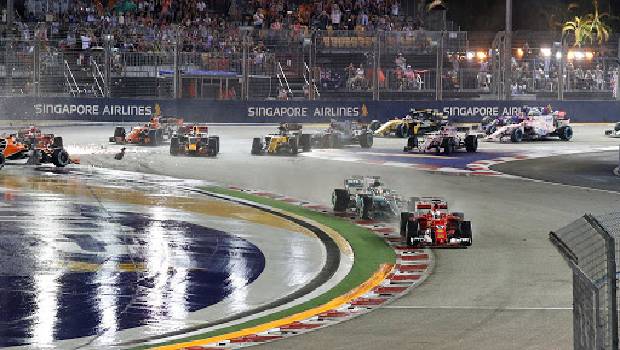 On September 20th, 2020, the Singapore Grand Prix racers will compete at the Marina Bay Circuit in Kallang. The organizers said they have been in talks with the Formula One authorities, the Singapore government, and others who are contributing with different roles and responsibilities had called together to discuss conducting the 2020 Singapore Formula One GP race. Singapore F1 organizers on Monday, 18th, May 2020 said, holding the race behind closed doors is not possible and will threaten more problems in between the coronavirus pandemic crisis. Since 10 F1 races had cancelled or postponed previously due to the spread of the COVID-19 disease, Formula 1 executives are under compulsion and are aiming to begin the 2020 season with the Austrian GP scheduled in July in Austria, and without fans.
Including the Formula 1 races, Football, Cricket, and a few other games in other countries are also expected to go ahead in the closed venues. But the Singapore Grand Prix, scheduled for September 2020 at the Marina Bay circuit, will begin at night-time around the streets of city-state's waterfront, and this would pose as a severe challenge in keeping the spectators away from the streets in cheering the racers. The race organisers along with the Singapore government, are in discussion about devising a plan and analysing various options to execute the Singapore Formula One street race without the witnesses. The crowd drew around 2,68,000 spectators in three days to watch last year's, race where the Ferrari driver Sebastian Vettel won the Singapore GP, and the considerable part of the crowd was visiting from other countries to watch and enjoy the race, at the Marina Bay Circuit.
The structure of the circuit extends around 5.063 kilometers, at the Downtown Core, Kallang, now to build temporary arrangements for the race might get extended to three months in covering the infrastructure was the message shared by the organizers of the Singapore GP. Additionally, the race organizers also said that the arrangement process should be under regular monitor as the well-being and safety of the fans, staff, and racers are a priority. Singapore had closed its businesses and advised people to stay at home in the pandemic crisis. More than 28,000 COVID-19 cases and most of them were foreign workers, but from early June in Singapore, lenience in the regulation has imposed.