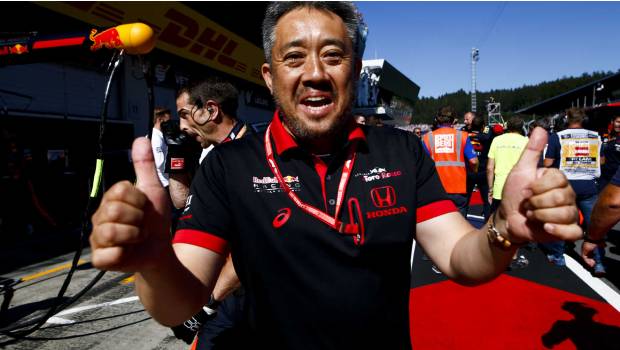 Honda is heading into its final F1 season and hopes to sign-off in style with its partners Red Bull and AlphaTauri. The PU Honda will be providing this year is that they had originally intended for the 2022 season and with the results from the winter testing Honda is positive of having better finishes in their penultimate season.
Honda's F1 technical director Toyoharu Tanabe says after their winter work Honda feels confident. He said in respect to the dyno they have got results to their satisfaction. Now they want to see how competitive their cars are on the track.
Tanabe said the team has focused on some bigger changes in the PU in an attempt to make gains compared to other constructors. He said to specify the changes they have made will be difficult but to bring substantial improvement in performance they have made modifications to the ICE, turbine and ERS. With this year being the third season with AlphaTauri Honda has also improved the installation and packaging of the entire PU.
Speaking about the fast-tracking of the PU Tanabe explained prior to the COVID-19 pandemic Honda was planning to introduce a new PU for this season. But due to postponement of F1, lockdown in Europe and difficulty to get the supply of components pushed them to the decision of postponing it to 2022. But after Honda decided to leave F1 at the end of 2021 they reassessed the situation and charted a different plan.
Despite having a tight timing Tanabe feels they managed to bring the development and preparation program. According to him they really used all their technical knowledge before bidding adieu to the sport.
Tanabe felt content and happy with the agreement that Honda and Red Bull had reached. According to the agreement the Austrian energy drinks company will take over the operations of Honda's power units from next year.
Tanabe thinks it is the right thing for Honda to do taking into consideration that how much that the Japanese automobile giants benefitted from their partnerships with Scuderia AlphaTauri and Red Bull Racing.
He also added it reflects the importance of their role and history, as part of the world of Formula 1 over several decades. So, he is glad that Honda has been able to help the two racing teams and the sport in this way.