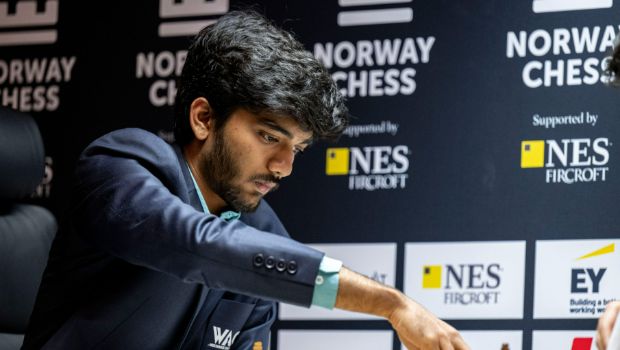 Gukesh D, India's top-rated chess player, has advanced to the FIDE World Cup quarterfinals in Baku, where he will face five-time world champion Magnus Carlsen. Indian teenager Gukesh, who has a live rating of 2761 and is ranked seventh in the world, performed strongly with white pieces to earn a much-needed draw against China's Wang Hao for a 1.5-0.5 triumph on Sunday. Carlsen, on the other hand, overcame Ukrainian legend Vassily Ivanchuk, indicating that he is reaching his peak at the proper time. The much-awaited quarterfinal match will be played on Tuesday.
The former world champion admitted that 17-year-old Gukesh is one of the world's top players, so it's no wonder he made it to the quarterfinals. We are in the quarterfinals, so you can expect to see the best players. Gukesh is one of them right now, based on how he's playing, the Norwegian Grand Master Said.
And Carlsen's statement is absolutely correct. Gukesh has a realistic possibility of becoming the youngest player to break the 2800 mark, a record that is currently held by GM Alireza Firouzja (18 years and 166 days).
Gukesh passed Viswanathan Anand as the highest-rated Indian player just 10 days ago, and while that wasn't a surprise, beating Carlsen in a Classical over-the-board game will be a major boost for the youngster. He beat Carlsen in an online game, becoming the youngest player to do so, but Carlsen is a different beast in over-the-board games.
The youngster from Chennai, on the other hand, seemed to be on the right track. He surpassed Carlsen last month to become the youngest chess player to reach 2750 ratings. While Carlsen is known for keeping his cards close to his chest, Gukesh will undoubtedly know a thing or two about his thought process, having been a member of his team during this year's inaugural Global Chess League. Carlsen's squad SG Alpine Warriors included three Indian prodigies, Gukesh, Arjun Erigaisi, and R Praggnanandhaa, and the players said Carlsen went out of his way to make them feel at ease.
India's other teen sensation Praggnanandhaa also made it to the quarterfinal of the FIDE World Cup after his win over Hungarian Ferenc Berkes. An Indian is guaranteed a semifinal spot as Praggnanandhaa will face compatriot Erigaisi in the last eight. The other two Indians, Vidit Gujrathi and D Harika drew again to secure their places in the tie-breaker on Monday.