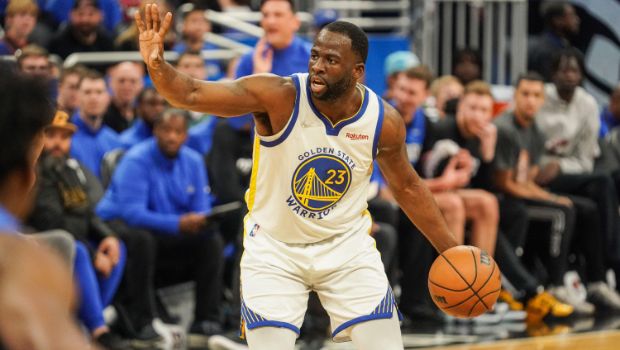 Draymond Green wouldn't be adding any individual hardware to his showcase this year unless he wins NBA Finals MVP. But the Golden State Warriors' power forward is still getting commended for his outstanding play on the court. On Monday afternoon, the league announced Memphis Grizzlies' power forward Jaren Jackson Jr. as the 2022-23 Defensive Player of the Year, which was an expected outcome for the fans.
The 33-year-old Green was not too far behind, as he managed to finish fourth in the voting. He was behind second-placed Brook Lopez of the Milwaukee Bucks, and third-place finisher Evan Mobley of the Cleveland Cavaliers. With 12 different players getting votes, the ballots were very spread out, and Dray only appeared on 18 of the 100 ballots. But he did receive three first-place votes for the award, to go with his two second-place votes and 13 third-place votes.
However, in many fans' eyes, the Warriors' star Green remains the best defensive player alive when it matters most. But he failed to have any realistic shot at winning his second Defensive Player of the Year trophy. Green did not always bring his top-level game in this championship season, the Warriors finished with just the 14th-best defensive rating in the league. Green missed nine games this season. None of those things were singularly disqualifying but, all put together, it was clear that he was not on the track to win the award.
These things do not mean that the American is not the most feared defender in the playoffs. And for what it is worth, Green finished fourth in the league this year in Defensive EPM, seen by many as the top catch-all defensive metric.
It's the fifth time in his career that Dray has finished in the top five in voting for the prestigious award. He finished third in 2020-21 and had back-to-back runner-up finishes in 2014-15 and 2015-16. He won the only DPOY award of his career in 2016-17. The two All-Defense teams haven't yet been announced, but it seems very likely that he will be on one of them.
Miami Heat center Bam Adebayo finished fifth, Bucks forward Giannis Antetokounmpo was sixth, Bucks guard Jrue Holiday and Toronto Raptors guard OG Anunoby tied for seventh.
Now, fans have to wait and see whether finishing "only" fourth motivates Green for the rest of the playoffs round 1 series against the Sacramento Kings.