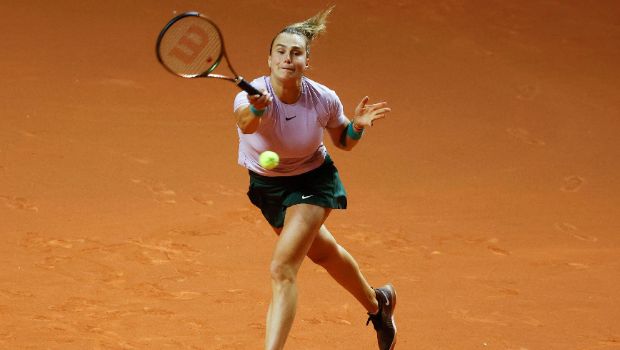 Aryna Sabalenka recently defeated the world no.1 Iga Swiatek to claim the Madrid Open title. Sabalenka was in full flow from the later part of the second set, planting herself inside the baseline and struggling her opponent with her strong groundstrokes. It took 10 strokes until the Belarusian finally accomplished a crosscourt backhand winner past Swiatek. Sabalenka trained hard in Miami on pushing herself to new athletic heights keeping Swiatek in mind and her footwork was spectacular.
Even when Sabalenka was pushed back out of position, she skipped around the ball with pristine footwork to unleash again. I remember all those sprints and running workouts. It was really tough for me, but I kept thinking, if you want to beat Iga you have to keep running, you have to keep pushing yourself, the top-seeded Belarusian recently said in an interview.
Many tennis experts and fans think that whether players in the top 10 would step up to challenge Swiatek's dominance in Rome. Sabalenka is entirely transformed to face any tough challenge while the Kazakh Elena Rybakina has left an unfading mark on faster surfaces. But iron sharpens iron. The added competition at the top of the sport will also make the Pole a better player.
The final clay tournament of the ATP 1000 is being played in Rome before the French Open and Swiatek will look to maintain her supremacy. Recently the Pole star said that the whole tour is moving forward and kind of playing better and better every year. You need to catch up and also be on the path of moving forward and improving, she admitted. The 21-year-old Swiatek's current season has been so solid but not amazing. She has remained extremely consistent and sits third in the WTA race behind Sabalenka and Rybakina with a strong 83% record.
Swiatek has proved herself as the best clay-court player and she is already approaching historic numbers. Last year, she tore down the Rome field without dropping a set. In 2021, she claimed her first title in Rome by completely outclassing the former world No.1 Karolina Pliskova.
A third straight title would make her the first woman since Conchita Martinez in 1996 to win the Italian Open three years in a row. At the French Open, meanwhile, she will be chasing her third title, a feat only previously achieved by Chris Evert, Monica Seles, Steffi Graf, Aranxta Sanchez Vicario, Justine Henin, and Serena Williams.