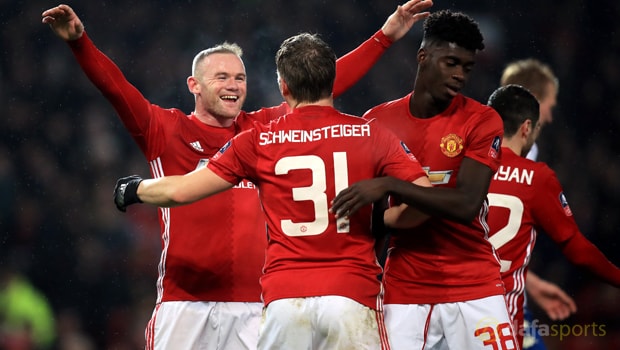 Wayne Rooney firmly believes Manchester United have got the right man in Jose Mourinho to bring back success to Old Trafford.
The Red Devils skipper freely admits it has been a tough spell for the club since Sir Alex Ferguson retired after a trophy-laden tenure, but he thinks Mourinho is now showing why he was appointed.
Man United face Wigan for a place in the FA Cup semi-final fifth round on Sunday, while they have a Europa League last-32 tie with Saint-Etienne and an EFL Cup Final date with Southampton looming next month.
After a period of transition under first David Moyes and then Louis van Gaal, the club's all-time leading goalscorer now sees a bright future under Mourinho's steer.
"Obviously Manchester have had the stability of Sir Alex over the 26 years before, and I think over the last three or four years what they've been doing is trying to find the right one. And I believe they've found him," said Rooney.
"Just working every day and seeing how he wants to work, how he is setting the team up. There's successes around the corner."
Rooney went on to reveal that he was in awe of the likes Gary Neville and Paul Scholes when he joined Man United in 2004, with both have gathered four Premier League winners' medals at that time.
Now the 31-year-old has five of those same medals and he hopes the young players coming through at the club will achieve something similar.
He says Marcus Rashford has the talent to surpass his tally of goals if he applies himself.
"I'm sure the likes of Rashford coming into the dressing room, they're probably looking at the likes of me and Michael Carrick thinking, 'they've won five Premier League titles.'
That's the aim, that's what you want to get to," added Rooney. "He'll have his time and I'm sure if he keeps doing the right things, going the way he is, then he'll be a great player for this club and hopefully in ten or whatever years more time he'll be close to the [scoring] record."
Man United are 5.50 to win the FA Cup this season while they are 1.40 to lift the EFL Cup.