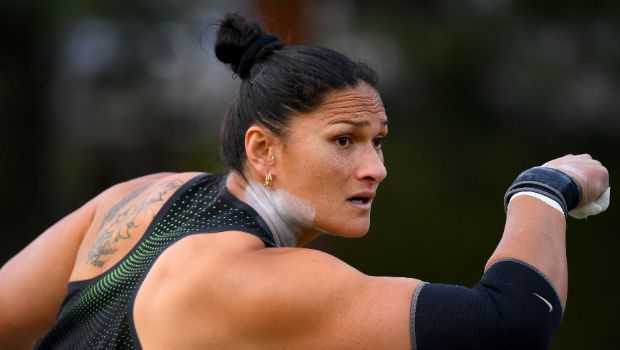 Legendary shot put athlete Dame Valerie Adams announced her retirement on Tuesday. The star athlete's announcement has brought an end to her historic career that included two Olympic gold medals and eight world titles. A veteran athlete from New Zealand disclosed her decision at a press conference, stating that it was time for her to officially hang her boots. Valerie Adams had a great athletic career that spanned more than two decades.
While addressing the press conference, Valerie Admas said that after long and deep thinking she has decided to officially hang up her size 14 throwing shoes. The 37-year-old shot putter expressed that she examined herself whether to embark on another campaign, after winning the bronze medal in Tokyo Olympics. Valerie Admas said that she took some time to really process her thought and also to see whether she wanted to do it again.
The shot-putter revealed that her heart, mind, and body simply answered her questions and so it's time for her to retire. The shot-putter admitted that athletics will always be a part of her life. The New Zealand star began the sport to achieve big when she was just 14-years old. Valerie Adams' first achievement came at the 1999 World U18 Championships in Bydgoszcz, where she finished tenth. Two years later, she won the U18 tournament in Debrecen and went on to win the world U20 title in Kingson.
After trying hard to earn a medal at the senior level, Adams' grabbed her silver medal at Helsinki in 2005. It was like dream over the next 11 years; where the New Zealand athlete prepared herself to prove as one of the best in the World. Adam's hunger to win pushed her up to clinch four outdoor world titles that included one at Osaka in 2007, at Berlin in 2009, at Daegu in 2011, and the last at Moscow in 2013. She had also secured four world indoor titles by winning at Valencia in 2008, Doha in 2010, Istanbul in 2012, and Sopot in 2014.
Valerie Adam went to the top of her success when she won two consecutive gold medals at the Olympics, winning the first at Beijing in 2008 and another at London in 2012. She did not stop there and went on to secure the silver medal in the 2016 Rio Olympics. Finally, she finished with a bronze medal in the 2021 Tokyo Olympics. The shot put star received the World Athlete of the Year award in 2014.