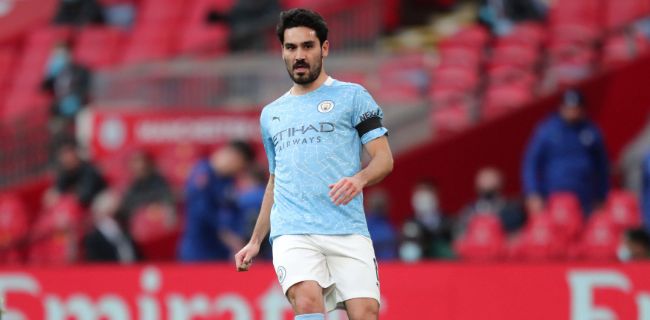 Manchester City produced a brilliant effort to register a comfortable 3-1 win over Aston Villa at the Etihad Stadium on Sunday. Manchester City got back on track following last weekend's defeat to Tottenham Hotspur and dominated the game right from the start. City produced an aggressive response to the Premier League's charge sheet as they comprehensively defeated Aston Villa to close the gap within three points of leaders Arsenal. Rodri, Ilkay Gundogan, and Riyad Mahrez all found the net in the first half of the game to put the defending champions in a commanding position. Ollie Watkins scored Villa's consolation goal.
Pep Guardiola's men needed only four minutes to take the lead when Rodri headed in Riyad Mahrez's corner. Mahrez curled a left-wing corner towards the near post, where defensive midfielder Rodri flicked a powerful downward header that beat the sprawling Martinez at the near post. City doubled the lead when Erling Haaland set up Gundogan in the 39th minute.
De Bruyne clipped an early long pass toward Haaland, who did well to retrieve it on the right side of the area. He then shot a devastating low cross to Gundagon, who tapped in with ease. Not for the first time against Villa this year, Gundogan tapped into an empty net at the far post. A few minutes later, Villa midfielder Jacob Ramsey conceded a penalty when he brought down City's Jack Grealish in the box. Mahrez stepped up and sent the penalty expert Emiliano Martinez the wrong way to make it 3-0.
City went into the break with a comfortable 3-0 lead. Villa tried their best to find the net from the start of the second half. Finally, the visitors found one in the 61st minute and it was a good finish from Watkins. Douglas Luiz played a crisp early pass into Watkins, who shuffled away from a challenge by Akanji on the edge of the area and slid the ball across Ederson. However, the visitors could not find their way back into the match.
City's star striker Haaland went off the field with a thigh injury at half-time. We do not yet know whether he will be available for the biggest game of the Premier League season, Arsenal taking on Manchester City at the Emirates on Wednesday night. Thigh injuries, even minor ones, do not always heal in 72 hours. If Haaland is not fit, City might have to play Phil Foden.