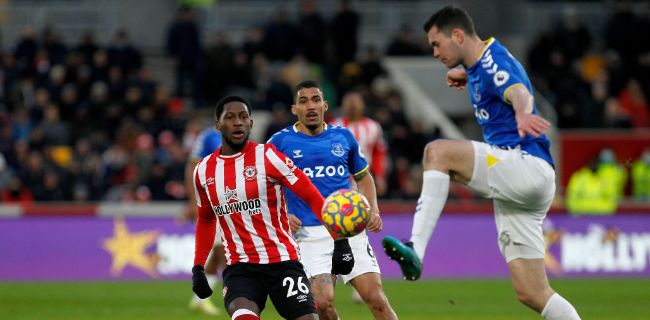 Michael Keane produced a good finish for giving away a penalty by finding the net from a long-range strike in the 90th minute to earn Everton a 1-1 draw with Tottenham Hotspur in a spirited English Premier League game on Monday as both teams finished with 10 men. Keane's strike gave Everton fans great joy and some fans jumped over the advertising hoardings as the English center-back's goal took their team out of the relegation zone and stopped Tottenham from jumping to third place in the points table. Tottenham played their first match since the departure of Manager Antonio Conte.
Both teams started well and played as per their game plans. Tottenham dominated the game as it progressed and created more chances to score an opener but Everton's defense never made it easy for them. Though Tottenham played smart, they failed to find the net at least once before the break. Both teams finished the first half of the game without scoring a goal.
Tottenham started the second half on a strong note and continued to play with momentum. Finally, Spurs took a 1-0 lead through Harry Kane 10 minutes after Everton's Abdoulaye Doucoure had been sent off. The match referee awarded Tottenham a penalty in the 68th minute after Keane brought down Cristian Romero. England captain Kane scored his 22nd goal of the season at Goodison Park. The 29-year-old Kane was booed whenever he touched the ball because of his role in sending off Everton midfielder Doucoure in the 58th minute. The Spurs' striker fell to the ground after being struck in the face by Doucoure as the two brawled in an off-the-ball incident.
Lucas Moura received a red card toward the final minutes of the game. The Brazilian winger pounced in on Keane. It was a dreadful challenge as he caught the defender above the ankle but luckily Keane stood up without any struggle or injury. Two minutes later, Keane who gave away the penalty, took a couple of touches before firing a shot from 30 yards and it settled into the top corner. Tottenham goalkeeper Hugo Lloris does not even move and it was incredible from Keane.
The Spurs have set their own downfall on every level. They allowed Everton to bounce back and then Moura equaled things up. Tottenham players have to do much better to control the games, said Interim manager Cristian Stellini. It's always about the intention to keep the ball and to wait to find the right moment to score, he concluded.