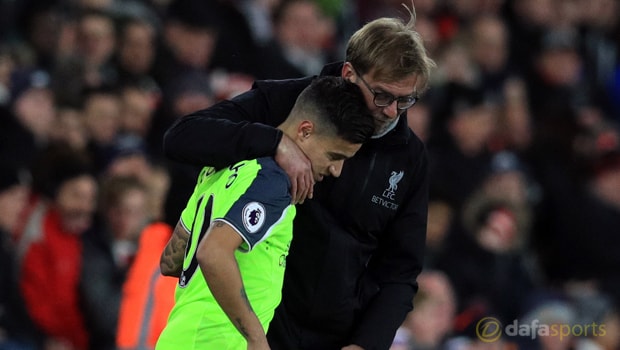 Liverpool midfielder Philippe Coutinho insists he and his team-mates still believe Jurgen Klopp is the man to lead them to glory despite their stuttering form.
The Reds, 11.00 to win the Premier League title, endured a miserable week as they lost three times in a row at home.
Defeats to Swansea, Southampton and Wolverhampton Wanderers saw them lose ground in the league as well as miss out on the chance to win the EFL Cup and FA Cup.
It was not all bad news for the club's fans as Coutinho signed a new five-year deal at Anfield last week and the Brazilian is adamant the team will respond under the former Borussia Dortmund coach.
He said: "I would like to say it is not about one week, no matter how bad that is, it is about the future with this squad.
"Yes, it has been a bad week, but we are looking beyond that. Of course we believe we can win titles under this manager – we are confident that will happen – and I signed because the manager is a winner.
"I believe in what he does and everyone inside the dressing room believes he will take this team to titles; that is why I signed a new contract and that is what we want to do.
"The club is very ambitious. The players and the manager all are focused. Everyone believes in that and everyone wants to bounce back at this moment."