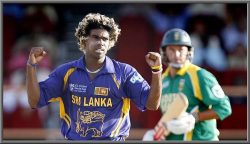 On Sri Lankan's legend Lasith Malinga's 35th birthday, lets take a look at the two hat-tricks that made his place in World Cup history.
There have been 44 hat-tricks taken since the first ODI back in 1971, with nine coming at the ICC Cricket World Cup.
Hat-trick king Lasith Malinga impressively, has managed to get his name in the World Cup record books on two occasions by claiming three wickets in-a-row;
Sri Lanka v South Africa (2007)
Not only is he the only person to take more than one hat-trick at the World Cup, he is also the only player to take three hat-tricks in one-day internationals in history .
Taking four wickets Malinga went one better than all  others before him in leading Sri Lanka to a win in  2007. Needing only 4 runs to win with five balls remaining Malinga outfoxed Shaun Pollock with a slow bowl and got the same result with the next ball by taking the wicket of Andrew Hall.
Indeed he waited until the first ball of the next over to complete his hat-trick, getting Jacques Kallis caught behind at 86.
Malinga got it four wickets  in four balls when he clean bowled Makhaya Ntini, but couldn't stop South Africa reaching their target with a wicket in hand.
Sri Lanka v Kenya (2011)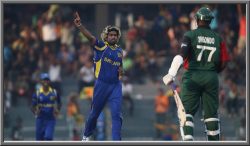 In the match against Kenya he became the first person to take two Cricket World Cup hat-tricks in 2011.
Just as his previsous effort, Malinga's hat-trick came over in two overs. The first victim being Tanmay Mishram trapping him lbw on the last ball of his seventh over.
Later bowling two identical balls on the start of his eight over to get the wickets of
Kenya fell to Malinga's magic in 2011 as he became the first person to take two Cricket World Cup hat-tricks.
Like his previous effort, Malinga's hat-trick was spread across two separate overs. His first victim was Tanmay Mishra, trapped lbw on the final ball of his seventh over.
Bowling identical deliveries in his eighth over to take the wickets of Peter Ongondo and Shem Ngoche getting his second Cricket World Cup hat-trick.