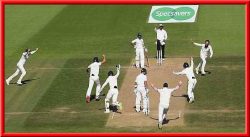 As a group, we need to be more relentless when we start a series and be a bit more expressive and fearless at the beginning: Kohli © Getty
It's inconceivable that the team that is number one in the world allows the home team three chances in three days to make comeback. Letting themselves by giving away their wickets while in such a good position, along with their main bowler failing to deliver the kind of performance that was expected of him.
India will pretty soon find out that quality players in the host team will take these gifting away of wickets with both hands. With Kohli being aware of such a problem.
"We've spoken about that, about the fact that even during the match when we're in a driving position, we should be able to capitalize on it and not let the opposition come in and fight back again and again. We can take a leaf out of that. Nottingham we did that, for three days we were relentless and we're on top."
Twice in four games India were not able to finish off the games though they had them in their grasp. Even though the conditions were not easy but these are what sets teams that are great apart from the rest.
While chasing a figure of less than 200 only Kohli made more than fifty runs in Edgbaston while on Sunday chasing a target of 245 only two of the players could deliver.
Where its about closing on the game or an innings , India most certainly needs people who can deliver those who can stand up and fight back.
"We can look at the scoreboard and say we were only 30 runs away or 50 runs away, but we have to recognize that when we are in the midst of the situation, and not later. We know that we have played good cricket but we cannot say again and again to ourselves that we have competed. When you come so close, there is an art of crossing the line as well, which we will have to learn. We have the ability, which is why we are getting close to a result, and we have belief in that ability. But when a pressure situation comes, how we react to it… is something we have to work on a bit, and everyone is ready to work on that," Kohli said.