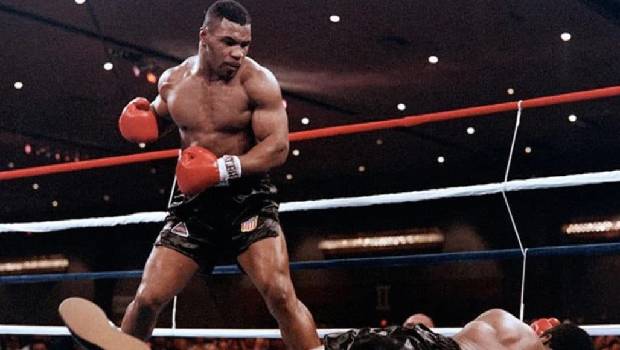 Mike Tyson, former unified world heavyweight champion released a new video of him practicing hard for his most talked-about comeback fight. It is said in his comeback fight Tyson would be either facing Evander Holyfield or Shannon Briggs. Mike seemed to be in great shape and showed his usual ferociousness in the video. He is said to be stepping into the ring after 15 years of spending time outside of it.
Tyson had earlier said his intention to fight in these exhibition matches was to show the world a senior boxer can deliver punches and win fights. By taking part in this event he also wants to prove to the young generation that he is still the "Baddest Man on the Planet". In the video, he was seen practicing his punches, defense moves like the head-down movement against his training partner and a punching bag. During his reign in the boxing ring, Tyson was known for the ferocious and charging bull attitude that ultimately earned him the tagline "Baddest Man on the Planet".
Ever since he announced his comeback experts of the sport have voiced their concerns for the 54-year old. They are uncertain whether Tyson could keep up his energy and pace for the complete duration of the match like he once did. But seeing him in his new recordings Tyson seem to shatter those concerns as he looked agile and strong. Soaked in sweat, Tyson showed up meaner and furious, maybe demonstrating he is not kidding about his return to the ring.
Earlier in May, he had posted a video with a caption "I'm Back" hinting at his comeback, in it he was seen preparing for his training as he threw some hard punches towards his coach. Even more so Mike Tyson had also implied that he would like to star in WWE if he continuous to keep up his preparation in this manner there can be more possibilities.
Apart from these the 'Iron' Mike also owns a cannabis farm in California that he opened a year ago, with additionally him eyeing to build a life outside of the ring. With small snippets of Tyson assuring his fans that he has not lost his swag inside the ring the legend has heightened the curiosity of the fans of boxing around the world.