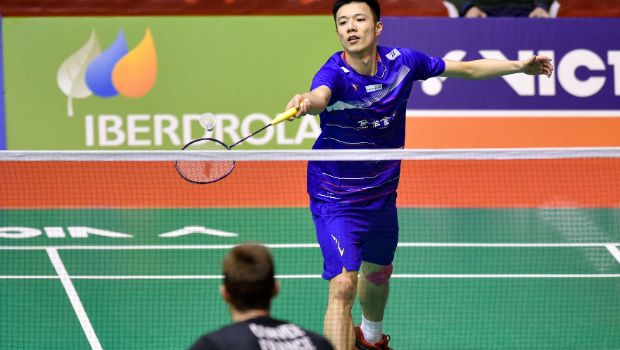 Priyanshu Rajawat's deception with net stops and pushes confused Wang Tzu Wei enough for the Indian to win 21-8, 13-21, 21-19 and go to the quarterfinals of the Australian Open Super 500 competition in Sydney. Even though Wang threatened with some power net play of his own, Rajawat's backhand at the net was in such good shape that it enabled him to open up the court and triumph in the match.
Rajawat had struggled to complete in three against Kodai Naraoka and Lakshya Sen in the previous two weeks. On Thursday in Sydney, against a player rated slightly higher than him at No 28, the World No 31 Indian employed his backhand net pushes to great advantage, winning the decider in 59 minutes. The 21-year-old Rajawat will next face his compatriot Kidambi Srikanth in the quarter-finals today (August 4).
Rajawat's goal was evident from the start, as he took the typical side stride forward. His left leg would stride forward and across the court from midcourt to the net, while his backhand worked at the reach to get on top of the shuttle. The variety and trickery of the backhand flowed from there. When Rajawat first took the court, he had a good cross smash from the back, but the net pushes into Wang's torso absolutely confused the Taiwanese. Throughout the match, at least one-third of the Indian's points came from the forecourt backhand. He would lead 11-4 and, from the forecourt, utilize front and back deception to confuse Wang.
Rajawat led 16-5 before flopping another backhand at an uncomfortable length towards Wang to extend his lead to 19-7. Wang was frequently forced to take evasive action and struck wide as the Indian's wristy backhand came flat at moments and parabola at others. Wang would smash wide at 21-8, losing a set.
Rajawat would retreat into a protective shell in the second as Wang took up net dominance and pulled away with the second set 21-13. At the start of the third period, the struggle was still at the net. But then came a fantastic rally in which Rajawat unleashed his entire arsenal of strokes and then some. Backhand variations moved in a 180-degree arc, including a reflex defensive return followed by a complete pirouette, and he recovered from the spin to play a couple more attacking shots before finishing with a deep cross smash winner. Rajawat continued with net dominance and his exquisite footwork helped him to seal the win.