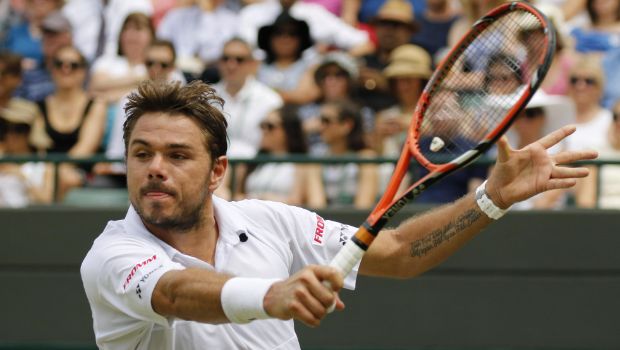 Stan Wawrinka of Swiss displayed his enduring class by eliminating Argentine Tomas Etcheverry on Thursday, sealing a berth in the third round of the Wimbledon 2023. Proving the adage that class is permanent and form is temporary, Wawrinka outclassed his 23-year-old opponent in a hard-fought encounter, winning 6-3, 4-6, 6-4, 6-2 on Court Three. This victory marks Wawrinka's first appearance in the third round of a Grand Slam tournament in three years. The 38-year-old Swiss veteran, ranked 88th in the world, faced an uphill battle against the 29th seed, but his experience and skill propelled him to seal the victory.
A great reward for Wawrinka's triumph is a highly anticipated clash with defending champion Novak Djokovic in the next round. The two players famously battled in the 2015 French Open final, with Wawrinka emerging victorious and expanding the so-called 'big four' to a 'big five'.
Reflecting on his achievement, Wawrinka acknowledged the challenges he has faced in recent years, particularly with his knee issues. It's been a long time since I had much success at Grand Slams. I've been working hard to regain my form, and I'm pleased with the progress I've made, the Swiss player said.
Wimbledon has not been Wawrinka's most successful tournament, with only two quarter-final appearances to his name. However, his victory over Etcheverry has taken him to the third round for the first time since 2015. In his upcoming clash, Wawrinka will face the formidable Djokovic, who is vying for a historic fifth consecutive Wimbledon title and an eighth overall, equaling the all-time record. Djokovic currently leads their head-to-head encounters 20-6, but they have never met on a grass court.
Looking ahead to the showdown, Wawrinka expressed his enthusiasm for the challenge and the opportunity to face Djokovic on the grass court. I'll enjoy it if I don't get killed, he stated. It's a big challenge, but I'm grateful for the chance to play against him on grass. I'll give my all and see what happens, Wawrinka concluded.
Wawrinka is one of the very few players to have beaten Djokovic multiple times in the final of a Grand Slam, and the Serbian star surely hasn't forgotten it. In a press conference at SW19 on Wednesday, Djokovic said Wawrinka took away two Grand Slams from me. That's the role he played in my career, beating me in two Grand Slam finals. He's a great person and really always inspirational in what he's doing at his age. He still keeps going strong and that's something that not many people can do.