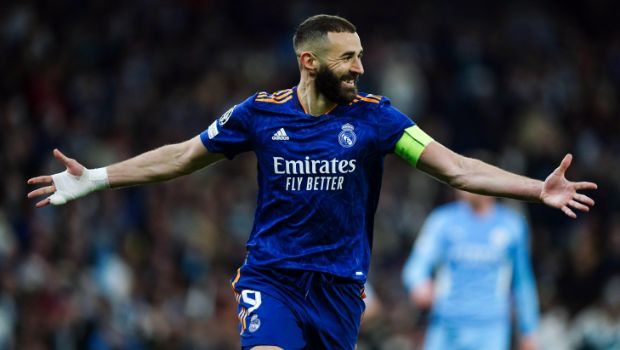 French star footballer Karim Benzema has reportedly been offered a massive £345m two-year deal to join an unnamed Saudi Arabian side this summer. The Real Madrid striker's future at the Santiago Bernabeu is up in the air as he is yet to sign an extension to his contract which expires this summer. Reports suggest that Benzema is likely to sign a new deal with Los Blancos, but the 35-year-old striker has still not announced his future with just one game left to play this season.
Spanish outlet AS Sport has now reported that the Frenchman has been offered a €400m (£345m) deal over two years to make the switch to Saudi Arabia and end his legendary 14-year stint with Madrid. It is a staggering contract offer that would effectively match Cristiano Ronaldo's current £173m-per-year deal at Al-Nassr.
It has been reported that the signing of Benzema would help with the country's strategy of landing the 2030 World Cup and the French star could become an ambassador for the competition. The Balloon d'Or winner would likely earn a large amount of money if he was to take up an ambassadorial role for the competition if they win the bidding rights in a tournament that would be jointly held with Turkey and Greece. Argentine star Lionel Messi is also a tourism ambassador for the country.
The signing of Ronaldo is described by AS Sports as the 'first piece of the puzzle' towards landing the competition, while Messi himself could also be on his way to Saudi Arabia this summer. Benzema has had a hit-and-miss season on the field for Madrid as they won just one of the three trophies they competed for and as well as the Club World Cup, only lifting the Copa del Rey in a disappointing year.
Real Madrid lost to Barcelona in the La Liga title race, and they were also knocked out in the semi-finals of the Champions League by Premier League title holders Manchester City. Benzema signed for Madrid in 2009 from Lyon and has gone on to achieve countless honors in the Spanish capital.
After winning the Ballon d'Or in 2022, Benzema has managed to play in just 23 league games and found the net only 18 times as Madrid fell short. In total, the Frenchman has scored more than 350 goals for Madrid in more than 600 games since his £25m move 14 years ago.