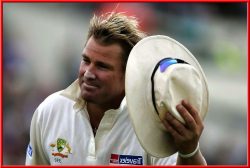 Widely regarded as one of the finest bowers of the cricket game Share Warne was born today the 13th of September 1969, in Melbourne, Victoria. A charismatic, spectacular performer who made as headlines on the field and off it.
Shane Warne took more than 1000 international wickets, a hat-trick in a Test match, Man of the Match in World Cup Final – got his name etched in the uppermost echelons of sporting history.
Debuting at the age of 23 Warne is credited with reviving the leg-spin. He started his career with a Test match against India in Sydney. Warne had picked up 708 wickets during the course of 145 Tests with an average of 25.41 and incredible feat and was more than a handy batsman.
The delivery that pitched well outside the leg stump zipping past Mike Gatting and removing his off-bail in 1993 is considered as the ball of the century. Wisden Cricketers' Almanac named Sharne Warne as one of the Five Cricketers of the Century. He was a showman to the true sense and a match winner too.
Having his brush with controversies he tested positive for consuming a banned substance and got suspended for 12 months missing out on the 2003 World Cup. Until Muttiah Muralitharan broke his record in 2007 Warne was the first bowler to pick up 700 Test wickets in 2006. In One-Day Internationals he took 293 wickets in 194 matches at an average of 25.73.
He finally appeared I the 2006-07 Ashes where Australia won, but he continued to play first-class cricket for his County Hampshire and led the Rajasthan Royals to their victory in the inaugural Indian Premier League in 2008.